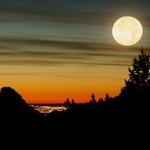 As I looked out this morning before dawn and marveled at the beauty of this October moon shining magnificently over the western sky I was filled with wonder. To borrow a line ~ "And I think to myself … What a wonderful world."
It seems that over the last few years I've developed more and more appreciation for this world that we inhabit and call home. It is as if every day is filled with more promise and possibility. I give thanks daily for all of my blessings and am truly more appreciative than at any other point in my life. Sometimes I think of the time I wasted worrying about unimportant things and the time that I should have enjoyed the day to day of living more, then I change gears and realize that we only have today.
~ Albert Einstein ~

Learn from yesterday, live for today, hope for tomorrow. The important thing is not to stop questioning.
Tomorrow night is a full moon. Full moons make me want to dance around in the moonlight, sit outside in a lawn chair or lie outside on a blanket and take it all in. I enjoy the night air snuggling with my love, enjoying the moment and dreaming of tomorrow.
Sometimes though a little nostalgia is good…