LISSIE ~ BERNARDO WINERY ~ KPRI PRIVATE LISTENER CONCERT
 This private listener concert in the beautiful Bernardo Winery was full of energy and attitude. Watching Lissie perform was like watching an old performance by Janis Joplin. Her voice is as smooth as silk and she is full of energy and attitude. It was very impressive.
KPRI Concert ~ Burlap to Cashmere ~ 
The day was magnificent with everyone excited and ready for another wonderful Adventure Hornblower Harbor Cruise. There could not have been a more beautiful day and for once I managed front row seats. The concert was wonderful and the group was friendly and lively. Their sound reminds you of listening to the old Simon and Garfunkle. A most wonderful day all around… Thanks to KPRI for another magnificent listener appreciation concert.
Dawes ~ Sept. 19th
The KPRI Dawes concert aboard the Adventure Hornblower on Sunday Sept. 19th was even better than expected.
The day turned out to be warm and pleasant and the music was simply beautiful. I had listened to a few of the songs before the concert but was very impressed with the talent that this group possesses. With only a guitar and harmonious voices the three performed magically.
On board the Hornblower I discovered that my camera is able to record as well as take still pictures so I will include a few clips from the Sunday concert. The bad recordings aside, it was one performance that I will remember forever and am so glad I was able to experience the beauty and serenity of the San Diego Harbor while listening to such remarkable music and talented performers.
I hope you enjoy this clip I recorded even though the videoing is simply awful and the scenery of San Diego does not do it justice. This harbor trip is one of my favorite things to do in San Diego. Enjoy!!
Tift Merritt ~ September 14  ~ Adventure Hornblower
The KPRI Frequent Listener Concert aboard the Adventure Hornblower on Tuesday night was phenomenal and proved to be one of the largest crowds I have seen for a weeknight San Diego Harbor cruise.  
 As I arrived onto Harbor Drive, in route to the concert, I was amazed at my first glimpse of the sailboats in the Harbor. No matter how many times I see this, I always breathe in and think that I am so very fortunate to live in such a beautiful place.
Boarding began around 6:15 and there was already a long line of people waiting to board. The top deck, where Tift Merritt and her band performed, was full to capacity with standing room only and the lower seating areas, with tables and out of the breeze, were filled as well. The music was piped into all levels so everyone was able to hear the music no matter which area they were in. I, of course, was on the upper deck with the cool, might I say cold, harbor breeze blowing across the deck.
The sights were magnificent and the view of San Diego from the water has to be one of the most gorgeous city views imaginable. I especially like the view of the sailboats anchored with the skyline welcoming in the background. As the boat passed under the Coronado Bridge many people took a moment and made a wish or had a moment of silence. At any rate it was very touching and magical.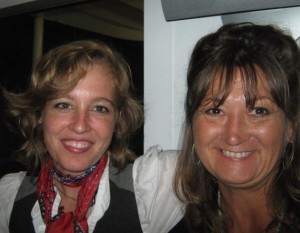 Aboard the Adventure Hornblower after the KPRI performance.
Tift was very personable and seemed genuinely appreciative of the people who had come out to hear her performance. She mentioned that she had expected a rowdy, fraternity type crowd and was pleasantly surprised that the crowd listened to the words of her songs and were so gracious to her and her band members.
She mentioned that San Diego had a special place in her life since her grandparents were from this area and had fallen in love in San Diego. She had seen the pictures of them here in the 40′s and was glad that she was able to perform here. She performed a song that she had written about them and told us a few stories of her life.
Though she is from North Carolina her accent was not as detectible as one would have thought. Her music and lyrics were very soothing and I enjoyed myself immensely. After the concert, she graciously signed cds, t-shirts and other memorabilia and took the time to make each one she visited with feel that she was grateful to each and every one for coming out to see her perform. 
I am a very big fan of the locally independently owned radio station KPRI in San Diego, California. I am also what is referred to as a "FREEQ"  a frequent listener. By being a frequent listener you are able to sign up for free concerts that are being held in the San Diego area. It amazes me that there is so much local talent and so many local "free" events available. Below is the newest upcoming events sponsored by KPRI.
Tift Merritt~ Adventure Hornblower ~ Sept. 14
According to Wikipedia : Catherine Tift Merritt is an American singer-songwriter, musician and North Carolina native. With her longtime band, she has built what has been called a "unique" and critically-acclaimed body of work of "sonic short stories and poignant performances."  She has been compared to songwriters like Joni Mitchell and Emmylou Harris.
Merritt has released two studio albums for Lost Highway Records and two for Fantasy Records. Her live albums so far are Home Is Loud released in 2005 and Buckingham Solo released in 2009.
Thanks to KPRI we are able to experience her voice and talent through an Adventure Hornblower cruise on Tuesday, September 14
Gin Wigmore ~ Adventure Hornblower ~ San Diego Harbor ~ ABSOLUTELY SMASHING!!
All who were fortunate enough to be aboard the Adventure Hornblower in San Diego and witness the wonderful performance by Gin and her two man band are singing "Under My Skin" over and over and over. It is one of those songs that get better the more you hear it.
I personally loved her energy and her style and can't wait for the next opportunity to hear her perform.
Way to go Gin!!!
DELTA SPIRIT
La Costa Bluefire Grill
Wednesday, August 18th
Doors open at 6:00pm, Show begins at 7:00pm
There's a scene in Murray Lerner's film ("Festival"), about the 1963 Newport Music Festival, where Peter, Paul and Mary are shown obliging a resounding call for an encore with the protest song, "If I Had A Hammer." Peter and Paul face each other from the sides and Mary faces the audience of tens of thousands, shaking her blonde hair and bearing down on a song about making change. She would, they would hammer out danger and a warning all over the land. Delta Spirit have five hammers and they swing them the way Mary bobbled her head back in '63 for her close-ups, the way Mary sang as if her knees were on fire and her mouth was brimming with more ire laced with optimism than she knew what to do with.
These Californians have more in common with the dirty haired, dirty fingernailed folk groups of the nascent years than they do any of their contemporaries. They're suited for reminiscent hopefulness and the gracefully youthful fusion of hostility and all-encompassing passion for all things that can set a smile ablaze or turn the hairs on arms and backs of necks into little beds of nails at the flick of a switch. They make lists of things they like, including all of the people they love, their home, pretty girls, desserts, bodies of water, justice and America.
They make you understand that, when it's all boiled down, what we all ultimately live for is catharsis and a fulfillment of body meeting land, air and sea harmoniously. They're about bodies meeting bodies, pressing skins to skins. They're about reminding you to listen more than you talk. They're about urging you to put stock in the happiness of others, not just your own. They make it obvious that we have to go somewhere to be somewhere. We have to feel something to really live. They sing of the soul searchers. They sing for the soul searchers. They are the soul searchers. " Sean Moeller 
This Private Listener Concert is by RSVP only… through KPRI.
Tuesday August 10,2010 ~ ROBERT FRANCIS  
KPRI Private Listener Concert aboard the Adventure Hornblower
Boarding begins at 6:30. The cruise will begin at 7 p.m.