Tift Merritt ~ September 14, 2010 ~ Adventure Hornblower 
Tift Merritt ~ September 14, 2010 ~ Adventure Hornblower
The KPRI Frequent Listener Concert aboard the Adventure Hornblower on Tuesday night was phenomenal and proved to be one of the largest crowds I have seen for a weeknight San Diego Harbor cruise.  
 As I arrived onto Harbor Drive, in route to the concert, I was amazed at my first glimpse of the sailboats in the Harbor. No matter how many times I see this, I always breathe in and think that I am so very fortunate to live in such a beautiful place.
Boarding began around 6:15 and there was already a long line of people waiting to board. The top deck, where Tift Merritt and her band performed, was full to capacity with standing room only and the lower seating areas, with tables and out of the breeze, were filled as well. The music was piped into all levels so everyone was able to hear the music no matter which area they were in. I, of course, was on the upper deck with the cool, might I say cold, harbor breeze blowing across the deck.
The sights were magnificent and the view of San Diego from the water has to be one of the most gorgeous city views imaginable. I especially like the view of the sailboats anchored with the skyline welcoming in the background. As the boat passed under the Coronado Bridge many people took a moment and made a wish or had a moment of silence.  At any rate it was very touching and magical.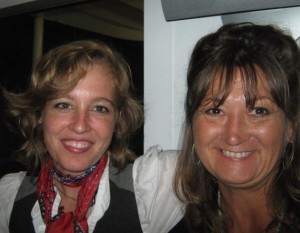 Aboard the Adventure Hornblower
Tift was very personable and seemed genuinely appreciative of the people who had come out to hear her performance. She mentioned that she had expected a rowdy, fraternity type crowd and was pleasantly surprised that the crowd listened to the words of her songs and were so gracious to her and her band members.
She mentioned that San Diego had a special place in her life since her grandparents were from this area and had fallen in love in San Diego. She had seen the pictures of them here in the 40′s and was glad that she was able to perform here. She performed a song that she had written about them and told us a few stories of her life.
Though she is from North Carolina her accent was not as detectible as one would have thought. Her music and lyrics were very soothing and I enjoyed myself immensely. After the concert, she graciously signed cds, t-shirts and other memorabilia and took the time to make each one she visited with feel that she was grateful to each and every one for coming out to see her perform.