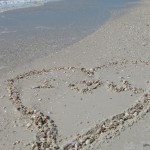 Every morning I miss you…
More, every day.
I wake up and reach out…
But you're far away.
I beg for your touch
I dream of your kiss
I think of the memories
And good times we've missed.
A long distance romance
Growing stronger with time
A yearning and feeling
A passionate rhyme.
A long distance romance
Playing in my mind
A dream and a whisper
Of what's left behind.
A single small moment
Of memories past
A meaningful feeling
A summertime trance.
I MISS YOU DARLING ~