This is a story I wrote after returning from Germany a few years back. Hope you enjoy it!!
Beginning a journey is always an exciting process.
Beginning a journey with people you've never traveled with can be quite another matter all together.
Who will drive, who will navigate, who will moan, who will cry? What kind of quirky habits will these travel partners of mine possess? Who will be the ultimate decision maker if a conflict arises? Who will be the peacemaker? Worse yet, what if no peacemaker can be found?
No adventurer in their right mind would pass up an overseas journey just because the travel partners were new to each other. Hey, you can always get lost or better yet, lose the travel partner who is the biggest nag.
With these thoughts in mind I begin to prepare for my first European vacation.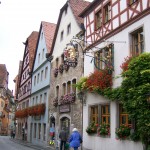 Step one: Apply for a passport. Yes, always know that when the clerk states you'll receive your passport in two months no problem and that there is no need to expedite because that really is a waste of money and honestly if the passport doesn't arrive in four months the fates are warning you not to go anyway. Please do not heed this advice. If you need a passport in a timely manner, have it expedited or apply at least a month ahead of when everyone figures you'll need it.
Step two: Save money or if you're fortunate enough to already have it saved, don't spend it all getting ready for the journey.
Step three: Check the weather, recheck the weather, disregard the weather forecasts and pack the completely opposite way of the way you are told to pack.
Step Four: Wait and wait but enjoy the wait because half of the fun of a trip is the expectation of the trip. Once the trip begins it is already rushing toward the grand finale and try as you might the end is always nearer than you think. Try as you might, before you know it you will be on your return flight thinking, My goodness it's over already.
Flying overseas from the United States is not as difficult as one would assume. Returning home from overseas is another matter altogether. When leaving, you have a few security measures to deal with, returning you become as sheep that are herded through lines from one security check to another. (Baa, Baa)
We headed out on a Thursday (so as to enjoy that extra weekend) full of excitement and a little apprehension. Not being a jet setter myself, leaving home and family for 17 days was a little sad…. Who am I kidding; I couldn't wait to be footloose and fancy-free.  Therefore the journey was underway.
My neighbor and I flew from Florida to Newark, New Jersey to meet her son who was flying in from California. We met in New Jersey to avoid having to find each other in a foreign country without a cell phone or any idea where to go. Believe me, if you think you have to stay in contact with the states, a phone that is compatible overseas is a fantastic idea. The notion of a quick call from a payphone really doesn't exist.
My neighbor's late husband was from Germany and she herself had visited there with him several times before. She was going to show her son the hometown where his father was from and some of the sites they had enjoyed together over the years. I myself was along just for the ride. Not a total mooch, I was paying my way. Like I said, who could resist a trip to Europe with a ready-made tour guide?
We arrived in Frankfurt, Germany anxious to get our rental car and begin our journey. Imagine our surprise when the rental car we had expected to be delivered to the airport was waiting for us across town. Oh well, call a cab and off to the rental office where surely our beautiful Audi would be waiting.
Not to be! When we arrived we were leased a Ford. Now a Ford is a good reliable American car. We felt sure, however, that it would be much cooler to drive a foreign car while in Europe, we had heard of the Audubon. Would this American car be able to keep up with the smooth, speedy European cars we had heard so much about?
It was a tight fit but the suitcases (two apiece) fit into the trunk with only a few extra items left to be placed in the backseat. The Son and car renter was obviously the driver, the tour guide and neighbor was obviously the front seat rider. I therefore became the back seat rider.
This is how our journey began and this is how it remained. We each had our anointed spots and we each had our routines that hardly varied as we traveled and toured the incredible southern part of Germany and bits of Austria and Switzerland.
Our first stop was the family hometown of Knetzgau. We arrived to find an American flag hanging out front alongside the German flag. What a way to welcome us to their home and town. We noticed that each home had the most incredible flower boxes and flower gardens. It was amazing that everyone took such pride in their homes and towns. It was strange that things were so clean and neat but no one was ever seen tending to their yards or gardens. It was almost as if they all had a special gardener that came around and tended to things after everyone had retired for the night. Maybe weeds do not grow in Germany,  just a thought.
We couldn't have arrived at a better time. After a summer of torrential rains the sun decided to shine and shine and shine. We were told constantly that this wasn't the norm. We just felt that this was one more perfect aspect to a Mary Poppins type, practically perfect (in every way) trip.
The family welcomed us as if we were the prodigal sons returning home. We were given the best that they had to offer and were treated like royalty. We stayed with Bertha, an eighty year old wonder. She rides her bicycle daily to the bakery to bring home rolls and meats to prepare for breakfast. These breakfasts are mouth watering; hard rolls, meats, cheeses, hard-boiled eggs, coffee and juice.
During our stay here we toured an old church, which was breathtaking, visited a replica village with homes from previous German decades, visited with extended family and became a part of the German town we were in. We walked through the town at night listening to the quiet and then the chiming of the church bells, what a relaxing wonderful thing to hear as you stroll leisurely through the streets. As Americans we were loved and welcomed into all the areas we visited and we couldn't have felt more welcome and at home. The three of us spoke very little German but everyone tried to help us figure out what we wanted to say and helped us to say it. We think!
We left Knetzgau on Tuesday morning. On the road again! Don't 'ya just love that song? The world (or at least our part of it) was before us. Very exciting taking off in a foreign country with no particular destination in mind, only a general knowledge of the main things we wanted to see. Floating with the wind, flying by the seat of our pants or just winging it, anyway we were off. As we took to the road, I realized, life really is good.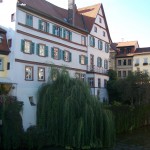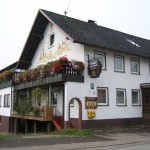 We had decided that we would stay in guesthouses whenever possible. My neighbor had tried to explain what these were but I had not really grasped just how special they were.
Rather than stay in a hotel we would stay in people's homes. Each guesthouse was special in its own way and none were a disappointment. That seems to be the way this whole holiday turned out, with each site we visited more spectacular than the one before.
As we met the locals we discovered some of the major differences between this part of Europe and the America I live in. It reminded me of stories about the old south; chivalry, honor and the slow paced lifestyle of people who want to enjoy their life instead of rushing through it. I could have stayed forever, I loved it so much. We discovered that these people take at least three weeks of holiday each year. They find it hard to believe that Americans are willing to work as many hours a week as they do without taking as much vacation as possible.
The first sites we saw were the beautiful rolling hills. The pastures were full of horses and cattle. We stopped to see cows on the side of the road and listened to the ringing of their bells with each one having a different tone. This was so the cows could be identified and found when they were brought down from the mountains or just home from the meadows. The pastures were so green that they all looked like a manicured golf course. I had the feeling that if I could just run and play in the fields I would discover the complete meaning of life.
We headed to the sea wanting to see a special island that was on the itinerary. We could see the boat but had to ask directions to find the ferry. We arrived just in time to jump aboard the ferryboat at the last minute. The captain and the mates waited for us and helped us aboard. It was not until we pushed off that we realized we were on the wrong boat. What a wonderful mistake, we had the opportunity to relax and enjoy the spectacular views of the water and the sailboats in the distance. We saw castles and cities all laid out before us. We eventually made it to the island of Mainau. This island was spectacular. It had been comprised of plant life from all over the world. We were able to see the large sequoia trees, the beautiful tropical flowers and plant life that was completely unbelievable. We also had the opportunity to visit a butterfly pavilion with tropical butterflies from around the world, all in all a very relaxing and beautiful afternoon.
From there we found a car ferry, yes we made sure of our destination this time and headed out to Switzerland. It was a nice ferry ride and when we were across the water we were in the foothills of the Alps. The photos I shot seemed to be out of a fairytale they were so incredible. The trees that surrounded the villages, with the mountains as a backdrop, made you realize the thought and planning that must have gone into the design of this awe inspiring place. Each village had church steeples that would rise above the villages and seemed to be set perfectly against the mountains in the distance. Looking out you could see the houses dotted in the green of the pastures with so many different shades of green trees that I could not quite believe how many different shades they were.
I found myself humming the songs from The Sound of Music. This music was the one thing that even came close to expressing the feelings that this place brought out in me. As we stopped to take in the views we would hear the sound of water bubbling and realized that these towns were built beside these wonderful streams and rivers giving it another element of perfection. The water was so crystal clear that you could see the bottom of the streams and see the fish that were swimming along. There were rocks along the sides that seemed as if they had been placed totally for our enjoyment. What a masterpiece!
One aspect of this part of the world that I have neglected to mention is the beer gardens. The people we met in Germany, Austria, and Switzerland seem to love their beer. I myself have always enjoyed and had a weakness for German wine; I found out, however, that I have also become a fan of the local beer that this part of the world produces. Every town we visited had its own beer that was produced locally. I have never been able to drink American beer, well occasionally with pizza, but for the most part I considered beer a drink I would rather do without. This beer we experience is deep and rich and sometimes seems sweet. The people we met seem to enjoy their leisure time and it is never a problem to stop at one of those beer gardens and sit and enjoy the sunshine and views of the natural wonders that are before you. Some of my best memories from this trip are of a beer garden with the sunshine beating down on my face just watching the world go by. These establishments also seen to go out of their way to make their place more beautiful than the next. Barrels of flowers are places around, flower boxes frame the windows and everything is so neat and orderly. Trellises with grape vines cover some of the porches and the inside rooms have wonderfully carved woodwork and comfortable tables and booths.
As we drove higher into the mountains I began to notice more colors in the leaves of the trees. It was beginning to show signs of fall in some of the areas we drove through. In the back seat I was able to see the sites from both directions. Sometimes it would make my head spin looking from one window to the others as each site was better than the one before. As we drove along we were always able to pick up a radio station that played old American rock and roll. We heard Elvis, Springstein, Henley, Seger, the Eagles, the Beach Boys, the Monkeys and even old Frank and Dean. What a way to travel with the best of American music and the best of European scenery. The towns we drove through had very few traffic lights and usually the town had what we referred to as roundabouts. These were circled roads with roads going off from the center in different directions. We circled around and around these trying to figure out which road we needed to be on as we navigated through from place to place. It became a part of our day to circle around and I felt dizzy with excitement for the day that was ahead. We developed a knack for accidentally finding the roads we were searching for and never doubted that we would end up where we wanted to be.
It should be noted that as courteous and friendly the people we met were they became completely different when they were in their cars driving. Driving is taken very seriously here and these drivers go about racing each other wherever they go. We could take off alone on a road and then out of nowhere a car would speed up behind us. It didn't seem to matter how fast we were going, they were always right there waiting to win the race. The traffic lights we did notice also had a yellow light after the red to let everyone know it is time to proceed. No doddering around here, when in the car, race to the finish line.
As we climbed higher into the Alps we could see the snowcaps above us and continued to drive towards the peaks. At one point we found a ski lift that went to the top of one of the mountains. We rode it to the top and were able to see snow on the ground for the first time this trip. As we road higher on the lift, the cares of the world seemed to be farther and farther behind me. How can you be stressed out and worried with all of this beauty around you? I seemed to discover the tranquility of life for me and wanted nothing more than to revel in this forever.
We stopped early on most days and looked for a place to stay for the night hoping to find a guest house that served dinners and locals to visit with, as unbelievable as it seems most times we did. Everyone always seemed to enjoy talking to us about our journeys and wanted to get our addresses to come and visit us in America. Visiting Florida would be nice but California, it seems, is still considered the golden state, with everyone wanting an invite there. Some nights we played dice with other guests and some nights we took walks and other nights we just visited with the locals. Things were so slow paced and relaxed that early to bed and early to rise applied some nights as well. We never stayed in the same place twice. We were always on the go come morning after our wonderful breakfast and off to see what new sites were in store. Every day I would think that nothing could top the day before and that maybe we would be a little bored but every day I was amazed once again and could only look around and say Wow, you did well.
We toured walled cities, town squares with golden store signs advertising the trades of the residents, saw museums, climbed towers and castles and would spot something way up in the mountains that we wanted to see and just navigate our way there. We circled up the winding mountain roads and always managed to stop for one more photo opp. We went into larger towns occasionally but pretty much stayed close to the smaller towns, what scenery. As we drove out each morning I would always relate it being a great day to the music that we heard, that way even if it was rainy and good tunes were playing I knew it was going to be another wonderful day.
One piece of info that will be useful for anyone planning a trip to this part of the world concerns the type of money to bring. We had all done the research on this and come to the conclusion that Travelers checks were the way to go. Luckily Kurt had also brought a credit card which we were able to use for gas at gas stations. Anyway the only places that would cash these travelers checks were banks in the larger towns. All of the areas where we stayed and visited only accepted Euros. We ended up cashing the travelers checks in when we finally found banks to cash them and laughed as we realized that the dollar was at an all time low. Oh well Que Sera Sera.
Since I had never traveled abroad I was very excited about having my passport stamped in every country that we visited. Due to the fact that the area in Europe we visited is now free and the borders patrols have been virtually eliminated we were not sure if we would have the opportunity to get them stamped or not. Each of our passports had been stamped in Frankfurt when we arrived at the airport so we set about trying to get stamps from Austria and Switzerland. When we entered Austria we saw a small airport and decided to try our luck there. We met the customs official and were treated very courteously by all of them. They looked over our passports and seemed glad to have the opportunity to help us. When we went into Switzerland we asked the officials at the border and were again treated wonderfully as we went inside and had our passports stamped, what a nice thing.
One of our most spectacular stops was to the Eagles Nest. It is located in an area of Germany that is bordered by Austria. The Eagles Nest is located atop one of the highest peaks in Germany. We tried to drive up but found out that the road had been closed to traffic except for the tour bussed that took you to the top. We bought tickets and rode the winding road to the top. Once we arrived at the end of the road we took an elevator up through the mountain to the top. When we exited the elevator we were at the top of a mountain with the most incredible views imaginable. I was completely in awe; it completely took my breath away.
We then walked even higher to the very top and it was as if I alone was at the very top of the world. The emotions this brought up in me took me completely by surprise; I realized just how small I was in the scope of this majestic place. This made me realize that the feel and smell and sight of the mountains were something I had been craving in my life without actually knowing what had been missing. The air is so much lighter up there and the troubles of life seem so trivial, I knew at that moment why the American mountain men left home and headed for the mountains, it is a calling that is hard to ignore. Leaving here was a very reflective and quiet time for me. I felt so many mixed emotions that it was best to just be quiet and let them wash over me.
From here we traveled back into a part of Germany that is known as Bavaria. This area is a part of the Alps but not the very highest peaks. It is however, in my opinion, probably the most beautiful area that we visited. We stayed this night at one of my favorite guesthouses. A young Bavarian woman and her family operated it. She made us feel even more welcome than usual if that is possible. It had such a peaceful feeling about it with wooden paths behind the hills of the home with a pasture beside it and the mountains in the distance. This area had loads of walking paths that people come from all over to explore. We had stopped at quite a few guesthouses this day trying to find one with a vacancy but we had had no luck until we discovered this one. Fortunately for us this was the one we discovered. As I walked through the wooded paths and breathed in the wonderful mountain air I realized how fortunate I was to be able to experience all of these wonders and knew that I would be indebted to Joan for life for allowing me to be a part of this. Thank you, Joanie. At night the stars were shining and from my bed I could look out the door and see them in the distance. What a way to fall asleep. In guesthouses each bed is made up with a down comforter and a feather pillar. The weather was cool at night and we were able to sleep with the balcony doors open so that we could feel the breeze and enjoy the night. What a change from Florida where we have lived under an air conditioner for the entire summer with temperatures barely dropping into the 90's at night. The Bavarian part of Germany is filled with tradition and beauty. Some of the sites will completely take your breath away. I stood in awe of the Alps and could only utter "WOW." I rode in the backseat so I had views before me and behind me. I have to say it was the best seat in the house. If driving we stopped about every half hour to take pictures. There was just so much incredible beauty I had to try and capture it on film. We saw streams with waterfall, rocks to cross on and just about every perfect element that can be imagined. If I was to try and picture a more perfect place I know I never could.
We found that each village has a Maypole and each one is different. It is like stepping back in time to see these in every town you visit. Every town also has an old cathedral with chimes that ring every hour, every half hour, every quarter hour. I think you catch my meaning. Our first few nights we stayed at guesthouses close to a church. We learned however, that most of the chimes go all night long and while beautiful during the day can be quite distracting at 3:00, 3:15, 3:30, 3:45 or 4:00 in the morning.
We were welcomed into these guesthouses by the most wonderful of people. In the mornings we were always prepared a special breakfast with more food than even us Americans could think about eating. Some of the women dressed in Bavarian traditional costume, some played us traditional Bavarian music and all opened up to us and helped us to open our minds and hearts to the Bavarian lifestyle. I have found a culture that is so special and beautiful I know nothing will ever compare. We all enjoyed being around the water so we took as many boat rides as were available. They were all different, some large, some small but all very relaxing and enjoyable. On one boat ride we were able to listen to the echo of the trumpet player playing. We reached a point in the sea where the notes would echo back when they were played, it was very magical. We saw steep cliffs with waterfalls and more castles along the banks of the sea. We toured the Neus Schloss castle that was built by King Ludwig of Bavaria as a tribute to Louis XIV of France. It was never completed but the rooms that are finished are extravagant and grandiose. It was to have been a full scale replica of the Palace of Versailles but only the central portion was built before the King died. The gardens are magnificent and are filled with fountains and statues that erupt with sprays of water all synchronized for maximum effect.
From there we headed towards Munich. As we turned on the radio, the familiar sounds of Don Henley's voice cascading through the speakers let me know it was going to be another good day. We stopped in a town outside of Munich and visited a Bauhaus with the last name of my travel companions. They bought glasses; beer and other souvenirs with their last name printed on them and were treated like celebrities by the locals because of the well-known last name. We decided to stay at a guesthouse near there and take a train into Munich. Now for anyone who doesn't know, Oktoberfest is held in Munich. It is a large, very large celebration that takes place from the end of September thru the first of part of October. It is the world's largest fair with over six million people attending annually. Beer plays an important part in this festival with special beer being brewed which is slightly darker and stronger in both taste and alcohol. It is served in 1 liter glasses in a beer tent, which can serve thousands. We followed the crowds as we left the train until we came up on the tents that made up Oktoberfest. It was drizzling rain so we figured this would help cut down on some of the crowds. Not to be, this place was really rocking. We arrived around noon to tents that were already filled with party patrons. To keep the tents from becoming too rowdy to early, security guards patrol the tents blending in with the patrons but enforcing "controlled chaos."  The idea of the quiet Oktoberfest was developed, where up until 6:00 the bands are only allowed to play quieter traditional German music to help preserve the traditional beer tent atmosphere making it enjoyable for families as well. We were able to visit three of the forty-one main tents, the Hippodrome, the Hofbrau Festzelt and the Ochsenbraterei. The beauty of the tents is like something out of the Arabian nights tales. They are large and pretty from the outside but when you enter one it is amazing how the colors and music and crowds all blend together to form a completely German party atmosphere. I'll never hear a polka again without being reminded of Germany.
Heading back to our guesthouse was an adventure unto itself. We were riding along on the train, stopping at different towns to pick up patrons and let some off enjoying a chance to ride on the train. We figured we had about covered every form of transportation on this trip so why not a train? Anyway, the train stopped and before we knew what was happening our car had been unhooked from the front of the train heading to Herrsching (home of our guesthouse) and we were left on a platform in the middle of nowhere. Now we looked around for a taxi stand, we looked around for a phone but here we were on a pitch black night twiddling our thumbs, wondering what to do. Then the part of the train e had been riding on took off in the direction we had come from, leaving us totally alone on a platform, in the boonies, in a foreign country. Believe me we should have been scared but we just waited about twenty minutes and another train came by taking us to the stop we needed in Herrsching. Oh what a night.
After Munich and Oktoberfest we were back to small roads and small towns. We toured a castle built on white rock that was breathtaking and sat on the edge of a cliff, in the photos it looks as though it is a painting placed strategically on the edge ready to topple at any time. It has however, stood for hundreds of years. We walked around Baden Baden, visited the casino and realized that even though all roads lead to Munich, no roads lead out of Baden Baden. We just kept circling and circling trying to find the specific road we were trying to head on to visit the Black Forest. Eventually we found our road. This was nothing new for us; it seemed we often were lost until we found these hidden treasures that were tucked away in the countryside. We began to notice that the scenery was starting to look like a Northeastern fall postcard. The colors in the trees were spectacular. We were able to see the greens, reds, oranges, and yellows all at once. What a nice way to draw to a close and begin winding down a very special vacation. We could see that the end of the vacation was coming up on us and we each had different emotions and responses to it. So far none of us had been left on the side of the road by the others, which was not to say that it wouldn't before it was over however. The three of us actually made for good travel companions; at least I say that we were. Ask someone else and you may get another answer, remember we all perceive things differently and what may be paradise for me may be Hades for another, you just never know. We ended up in a nice guesthouse with the Black Forest behind us. I was able to take a long walk through the forest and pretend I could hear the voices of the old knights who rode through them. I discovered old caves with engravings from the 1700's and breather in the magic of being in this place at this time. Also within walking distance of our guesthouse was an old burnt out church. It was rather eerie walking and taking pictures her. It was almost as if it was a secret garden that was tucked away from the rest of the world. Then again so many of the places we visited were like gems that only a few would ever be privileged enough to ever see. This old church was wonderful to climb around on and we spent an evening just exploring and imagining.
We headed to the Rhine River to see some of the local sites before taking a five hour cruise down the river the following day to end our trip before heading back to Frankfurt to fly out on Monday. This area is full of the most incredible vineyards that seemed to stretch as far as the eye could see. This was the area of the country with the famous Riesling wine that we all knew and loved. There was a "Riesling Trail" you could follow from vineyard to vineyard and have the ultimate wine tasting experience. Unfortunately, or fortunately, we never made it past the first establishment we entered as they had groups of Germans having a German sing along. Each group would try to out sing the other. It was quite interesting to realize that they were singing American songs but usually in German. Here we made friends with some of the police from Cologne, Germany. They apparently take a trip, once a year or so, to a different part of Germany and sight see. One of our new friends had a wonderful voice and sounded just like Elvis. I learned that the people of Germany were very fond of Elvis and remember that he spent time over there during the war. We were serenaded by our Elvis and enjoyed trying to sing along, in German, to the songs we knew from years gone by.
We drove out early the next day to catch our cruise ship on the Rhine. There we met a couple of kids who had been backpacking across Europe for the last few months. We exchanged stories over breakfast and made more new friends. There could not have been a better way to wind down a trip of this magnitude than to relax on a ship on the Rhine. Pictures cannot do this scenery justice. The river itself is wonderful but the countryside is full of castles that overlook the river. The river twists and turns and in some places it seems as if you are going to be engulfed by the countryside. It was such a nice way to sit back and reflect on all that had happened over the last seventeen days. After the cruise we walked to yet another train station to ride back to our car that we had left when we boarded the ship. The walk along the Rhine was long but refreshing. We took the train back to our car and from there headed back to Frankfurt to prepare for our return flight home. Our trip in Europe seemed to be winding to an end.
It surprises and amazes me that one trip can have so many wonderful elements and that everything can click so to speak. We were able to take walks in the woods and slow down enough to enjoy what we were experiencing. Sometimes I rush through life without taking the time to breathe in the smells, hear the sounds and experience the moments that make up our existence. Hopefully, this trip has taught me to experience life and not just rush through it. How true, that it is the journey that means the most. I've learned that there is a name for people who migrate to Bavaria. They call them the "Zuagroaste" (those who have traveled here). One day I would like to become a permanent "Zuagroaste", to completely taste and experience the world of the Alps, the most breathtaking sight my eyes have ever beheld. I can't explain the peacefulness I felt here, I can only say that if you ever have the opportunity to stand at the Eagle's Nest or in a valley in Bavaria and behold the majestic view, please take the chance and go, you will never regret it and if you open your heart and mind you will, as Henley says, "learn to be still."