Gun violence in our society has reached monumental proportions over the last decade. It seems that we are constantly hearing of some act of unfathomable violence that seems to grow in intensity with each occurrence. We begin to wonder how it is possible to protect the ones we love from this epidemic of mass murder.
In today's world, people need to make sense of the unthinkable. They need to find a way to make the unthinkable and unjustifiable processable in their minds and livable in their daily world. They need to find a way to feel they are making a difference against the evil that they see on the news, in the newspapers and in the world.
They ask themselves "How can we get rid of the guns that are causing this problem?"
They may feel that if they can help regulate and pass laws, they will have taken part in stopping the evil that exists in our world.
We, as God fearing people, wonder how it is possible for people to kill or even attempt to harm the weakest and most innocent? What can we, as a people, do to stop this violence? We wonder what evil possesses a person's soul to allow them to harm the most innocent and most cherished. How is it even possible for so much evil to exist?
It may seem to some as if there is no way to prevent this violence without taking a few of our personal liberties away. How is it possible for us to do our part to curtail and to help to do away with this evil; this evil that threatens even the most sacred of places in this chaotic world we now live in?
Maybe it makes perfect sense that if the means of this mass violence is done away with, even for law abiding citizens; this world will be a safer and more peaceful place.
Humm….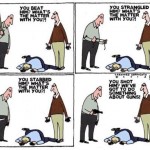 Maybe the question that should be asked is: Are we reacting emotionally to this gun violence problem and not seeing the accurate, logical, true solutions that could be enacted instead of a "seem to fix but actually does nothing of value law" that our elected officials seem determined to jam down our throats?
Maybe instead there are a few things, after the fact, which we as a society can do to reduce this violence. Maybe, just maybe, the answer to this gun violence problem is in regard to "the persons committing the acts" instead of "the means of the act".
Maybe we can quit glorifying the monsters who are committing these crimes of violence, for attention, used to shock and mortify society by not giving them the one thing they all seem to crave – notoriety and infamy. These people, in their own warped and insane minds, want to be remembered and discussed for the evil they are and the evil they commit.
Just a thought, but what about never mentioning their name in the press or showing their face but instead referring to them as John Doe? Why not take from them their most treasured thing (infamy), as they have taken from us (our children)?
Maybe, just maybe, we should allow law abiding citizens the right to bear arms in schools. Think how quickly these acts of terror could have been averted or avoided if every teacher was armed with a gun themselves. Ex: A gunman walks in and begins shooting. He is immediately shot himself. End of story – no accolades for the gunman, no dead children, no notoriety. Case closed.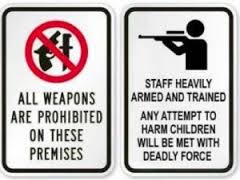 If this seems too extreme to some, think how extreme is it to take guns away from law abiding citizens and thinking that criminals will not find a way to break the law and obtain guns themselves. Never has this case scenario been proven.
What has been proven, however, is that communities which allow or require citizens to have guns actually deter criminal actions and violence. I, for one, would rather have my child or grandchild in a school with armed guards, in a community that requires its citizens to be armed; than in a school where my child or grandchild is a sitting duck for any raving lunatic, craving attention… but that is just me.
Our Second Amendment, part of our Bill of Rights, guarantees a number of personal freedoms. It limits the government's power in judicial and other proceedings, reserves some powers for the states and the public and guarantees us, as citizens, the right to bear arms. It guarantees us, as Americans, the right to protect ourselves by force from individuals who may try to harm us. Mainly our Second Amendment guarantees us protection from our own government.
The Second Amendment is the very essence of what makes us unique and free.
Those who would give up essential liberty to purchase a little temporary safety deserve neither liberty nor safety.  -Ben Franklin
 The strongest reason for the people to retain the right to keep and bear arms is, as a last resort, to protect themselves against tyranny in government.  - Thomas Jefferson
The great object is that every man be armed. - Patrick Henry
A free people ought not only to be armed and disciplined, but they should have sufficient arms and ammunition to maintain a status of independence from any who might attempt to abuse them, which would include their own government.  – George Washington
 Our Constitution and Bill of Rights was written by men of vision who knew and understood that if we lose our freedoms and liberties we lose our chance to protect ourselves and our way of life. It is our right and responsibility as Americans to distinguish the difference between rhetoric to inflame and arouse our emotions and actual fact. It is up to us individually to search for the truth and to make rational, logical decisions on gun control. It is our right to embrace the freedoms we possess because if we aren't able to protect our freedoms, we aren't actually free.
  Gun control is just that….CONTROL.
Who are you letting control your life?