I am one of those travelers who love to go off of the beaten path. On my first cross country excursion,  I made it a point to travel through "Texas towns"  that songs had been written about. I  also avoided major interstates and thoroughfares as much as possible. I enjoyed visiting the small towns but did spend some time as well in some of the larger, more famous cities.
Traveling the backroads of Texas,  I made my way through Amarillo, Abeline, LaGrange, Dallas, Houston, etc. As one who always believe in "signs"  I  was excited and thrilled that as I entered the town of Amarillo,  I heard "Amarillo by Morning" a longtime favorite of mine by George Strait.
The icing on the cake however,  was when I made my way into  Luckenbach, Texas. I had been a fan of the song by Waylon Jennings and Willie Nelson and had always wanted to visit there.
I arrived in Luckenbach in April, first stopping and setting up my tent at the Armadillo Farm Campground.  I was fortunate enough to arrive in the off season,  thus giving me the opportunity to meet and befriend the friendliest campground host imaginable.  Her campground was conveniently located across from the Luckenback general store gathering area (or dance hall) where the locals meet to play music and visit. My tentsite was  actually so close that I could hear the music of the Luckenback locals from my tent. I chose, of course,  to visit the dance hall and hear the music firsthand.
The night was wonderful and the music was phenominal. I went as a guest of my camphost and was introduced to all of the locals and made to feel special and at home. I told everyone about my quest to visit songs that had been made famous in song and was serenaded with all the ones that we could think of. The thrill of the night was hearing Luckenback Texas,  in Luckenback…. what a special memory. A special thank you to all of the musicians and new friends that I met.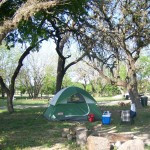 Luckenbach is an unincorporated community thirteen miles (19Â km) from Fredericksburg in southeastern Gillespie County, Texas. Its oldest building is a combination general store and saloon reputedly opened in 1849. Today the town maintains a ghost town feel with its small population and strong western roots. One of its two main buildings houses a post office, saloon, and general store, the other is the dance hall. Waylon Jennings and Willie Nelson memorialized Luckenbach with the song "Luckenbach, Texas (Back to the Basics of Love)"
If you get a chance to visit Luckenback be sure to stop by and visit The Armadillo Farm www.armadillofarmcampground.com  located in wonderful Texas hill country. It is billed as an "in tents experience"  and they offer daily, weekly, and monthly tent and rv sites and also have cabins available for rent.
Incoming search terms:
luckenbach texas
luckenbach tx