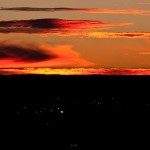 Sunrise
I spend the weekend at the Harbor, one of my favorite places in California, enjoying the sunshine, the friendships, the good food but mainly the incredible October skies. It is hard to imagine a more beautiful, natural sight than these I've been blessed to have the opportunity to experience every morning and evening.
From my earliest days I have been a star gazer and a sky watcher. I've spent many an evening looking up to the skies searching for peace of mind and dreaming of the future. It always seems that the stars are never brighter than in October and the colors of the sunrise and sunsets are never as vivid as they appear to be in this beautiful autumn month.
Waking with the sun as it rises over the mountain and then reflecting on the day as the sun sets in the evening fills my heart with love and gratitude.
People go through their whole lives chasing everything in the material world, and they fail to discover the greatest treasures of all.
Today I am reminded of the song "Sailing to Philadelphia," by Mark Knopfler. This song tells the story of the two men hired to survey the border between Maryland and Philadelphia in the 1700's. It has a haunting sound to it and seems to be perfect for stargazing. Mark  Knopfler has such a wonderful, raspy voice and I love the way his writing stirs my soul.